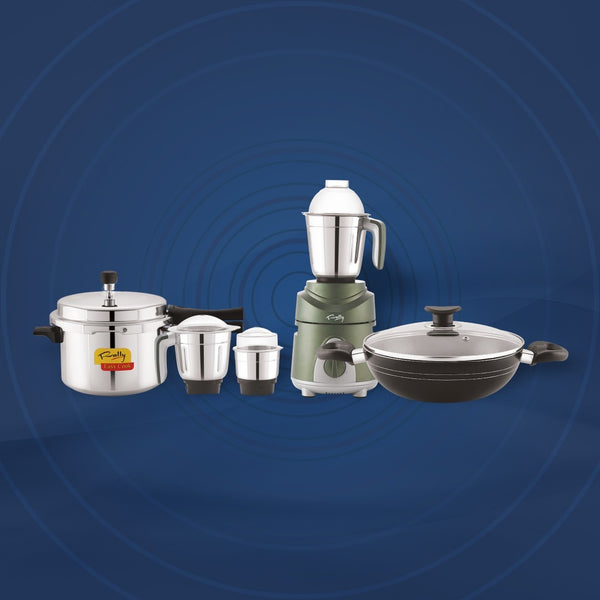 3 Must-Have Kitchen Cookware & Appliances For A Smart Home
A modern kitchen is not just about the overall design or ambience, the functionality in it matters too. This functionality comes from the cookware and appliances used in the kitchen.
Smart kitchen cookware and appliances make for a smart kitchen. The design, the technology used, the material used decides the efficiency and durability of the kitchen cookware and kitchen appliances.
Today, we shall look at 3 must-have kitchen cookware and kitchen appliances which when used make your home a smarter one and thus induce a smarter living for you.
1. MIXER GRINDER
A typical Indian household which indulges into traditional cooking shall best know the importance of a mixer grinder. This kitchen appliance has multiple uses- right from mixing & grinding to juicing & smoothening, and hence it stands first in our list of must-have kitchen appliances!
Most of the mixer grinders come with 3 stainless steel jars. The smallest one is largely used to grind chutneys, the medium one helps grind sauces or make fresh juices and ultimately the biggest one is saddled with the responsibility of grinding fine dosa and idli batters.
In today's digital world, you don't even have to worry about visiting top kitchen appliances stores to buy mixer grinders, you can as easily order them online. All online shopping websites for kitchen appliances provide the features of their mixer grinders range in detail, be it the compactness of the design, the technology on which it operates or the sturdiness of it!
Bring home the powerhouse of grinding with the most powerful range of mixer grinders online, explore here: https://shop.rallyappliances.com/collections/home-appliances/mixer-grinders
2. PRESSURE COOKER
The life of any Indian kitchen is a pressure cooker, in fact there have been days when the whistles of this pressure cooker become a wake-up call for us in the mornings. A pressure cooker is a kitchen cookware which shall never let you down when you need to cook something quickly, and with no hassle. The only thing that you need to pay attention to, is mastering the art of understanding how it works!
Be it dal, plain rice, biryani or curries, this kitchen cookware covers it all for you, even cakes for that matter!
There are many top kitchen appliances stores which offer pressure cookers made of stainless steel and pure aluminum. It is your choice of purchase, depending on your requirements. One thing you can do when you buy pressure cookers online is walk through the features properly and check if the kitchen appliances store is providing a warranty on the product.
Find the most strong and durable range of pressure cookers online here: https://shop.rallyappliances.com/collections/cookware/pressure-cooker
3. NON-STICK COOKWARE
If we were to put in a few words altogether, non-stick cookware is a healthier alternative to cooking delicious, yet healthy food. When using stainless steel cookware, to ensure the dishes cook nicely with no hassle, we at times use a lot of oil and that results in oily, unhealthy food.
With non-stick cookware, you can cook yummilicious, yet healthy food with less oil as your food would not stick to the surface! Apart from this, non-stick kitchen cookware is easy to clean and dry too. Most other kitchen cookware get scratches after some period of time, non-stick cookware has  a coating which prevents scratches and thus ensures longevity.
Explore sleek and elegant non-stick cookware online here: https://shop.rallyappliances.com/products/maple-non-stick-kadai-induction-base
Now that you know the must-have kitchen cookware and kitchen appliances, it is highly advisable to think twice and inquire well about the kitchen appliances store or online shopping website for kitchen appliances you buy the cookware or appliance from!
Rally Appliances is one such online shopping website for kitchen appliances which offers the most state-of-the-art kitchen cookware and technologically advanced kitchen appliances. Explore their products here: https://shop.rallyappliances.com/